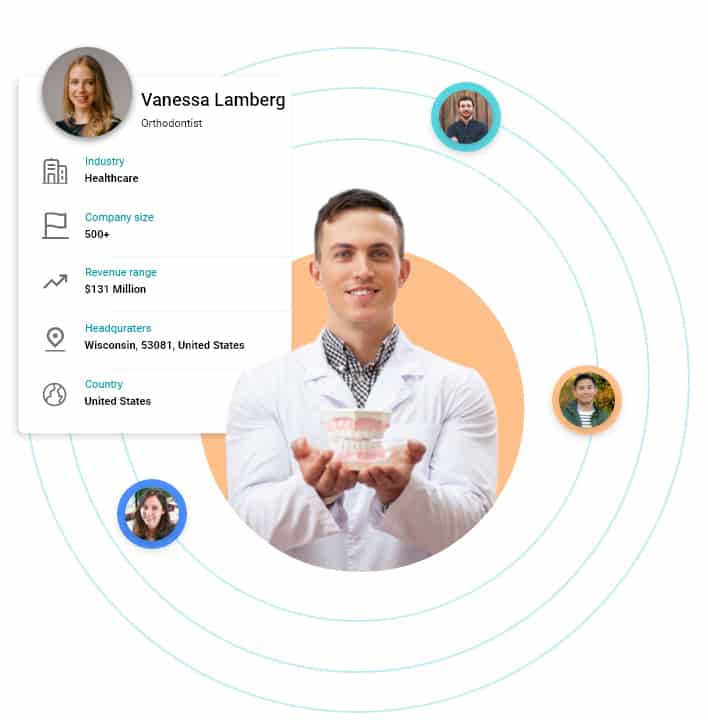 Orthodontist Email List
11,352+
GLOBAL RECORDS
EMAIL   MAIL  PHONE
Using an orthodontic email list, you can market various products, including tools and medical equipment for treating dental and tooth irregularities, post-operative care equipment, and supplies.DataCaptive has the ideal database to help you succeed in your marketing and sales strategies. Enhance brand recognition and increase ROI instantly!
We Set the Highest Bar for Privacy and Security
Orthodontists Email Addresses to Support Marketing Strategies
The dental industry is one of the biggest revenue generators in the healthcare industry. Increase profits by purchasing a list of orthodontists and obtaining orders for X-ray machines, pharmaceuticals, dental tools, and pharmaceuticals.
Orthodontists rely on dental laboratories, insurance companies, publications, and medications to maintain their knowledge of new technology and meet the needs of their clients. The orthodontists mailing list will help grow your network through data driven B2B marketing.
Data That's Trusted by over 800,000 Salespeople
Here's What Our Customers Say
Rachel Lemieux
Manager, Demand Generation
Advice Media
A Wise Decision To Invest In DataCaptive
Leif Magnuson
CEO & Founder
TipHaus
Continue Running Drip Campaigns With Their Lists
Orthodontists Database is Your Blueprint to Success
The orthodontists email list will help you expand your brand's reach in B2B marketing. Strive to connect strategically with your target audience while promoting services that generate revenue.
Our delivery and accuracy rates are 85% and 95%, certified at multiple levels to ensure you receive the best relevance to your business needs. The orthodontic marketing list is a database of 100% verified, validated, and consented data. Our lists are compliant with CAN-SPAM, ANTI-SPAM, and GDPR. We provide a refund guarantee or a replacement of the data in case of hard bounces and decaying data.
Real-time Data Insights in Orthodontists Specialists Contacts
Pursue your target audience with customizable orthodontist contact list, present marketing and lead generation strategies.
| | | | |
| --- | --- | --- | --- |
| | Full Name | | Mailing Address |
| | Email Address | | Fax Number |
| | License Number | | Licensed States |
| | Geography | | Contact Number |
| | Specialty | | Years of Experience |
| | Hospital Affiliation | | And More! |
| | | | |
Exclusive Orthodontist List with More Featured Lists
Orthodontic specialists email addresses are your one-stop solution for contacting specialists interested in your products and services. The best leads and sales are here!
Avail of the best advantages of well-segmented, prepackaged, and customized lists upon order confirmation. Create new milestones and go beyond with increased ROI!
Featured Lists that Bring Business
Orthodontic Assistant Contacts
Orthodontist Clinical Technician Contact Lists
Children Orthodontics Email Address List
Invisible Braces Orthodontist Contact Database
Orthodontist Surgeon Contact addresses
Orthodontic Retainer Technician Email Leads
Orthodontist Treatment Coordinator Lists
List of Orthodontic Instruments & Supplies
Orthodontist Directory Establishing Markers in Business
Trustworthy Contact Details
Data from Credible Resources
70+ Customizable Data Fields
Receptive Data with Economy of Scale
Data Fields Available
170+
Customize Your List with Segmentation
| | | | | | |
| --- | --- | --- | --- | --- | --- |
| | Job Titles | | Revenue Size | | Geographics |
| | Job Function | | SIC Codes | | Years of Experience |
| | Organization Size | | NAICS Codes | | And More! |
Authentic and Consented Sources
| | | | | | |
| --- | --- | --- | --- | --- | --- |
| | Healthcare Directories | | Surveys and Feedback Forms | | Scientific Journals and Publications |
| | Government Records | | Online Seminars and Conferences | | Webinars and Podcasts |
| | Medical Magazines | | Opt-in Email Campaigns | | Med-tech Trade Show |
Capture Attention Through Orthodontists Email Database
After receiving the order confirmation, we deliver custom orthodontics email addresses in 3–5 days to your business email IDs. You can download the list as .xls or .csv files. It can be effortlessly downloaded and incorporated into any cloud-based or CRM program that is compatible with it. To attract the best clientele, engage at your best.
Frequently Asked Questions
How much does a customized email list of orthodontists specialists cost?

DataCaptive does not have a fixed pricing scale for customized lists as they vary on criteria chosen for your business requirements. We suggest buying more and paying less for personalized or prepackaged lists.

What are the criteria available to customize orthodontist phone numbers?

Several criteria available from Datacaptive can be used to make a customized list. The criteria include full names, job titles, geographical locations, social media handles, and more. Move ahead and promote your products with the best B2B marketing strategy.
We will assess your requirements and pick the best solutions!


3080 Olcott St D205, Santa Clara, CA 95054, United States