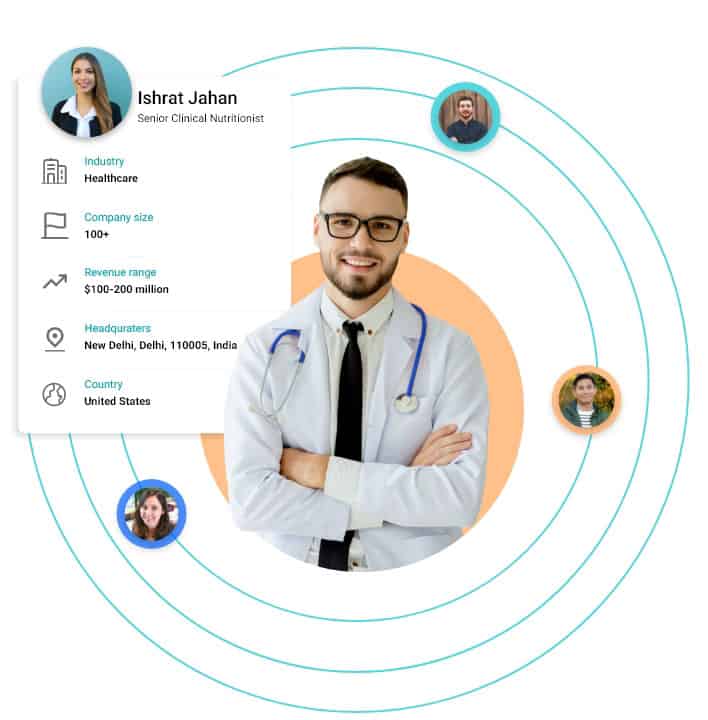 Nutritionist Email List
10,000+
GLOBAL RECORDS
EMAIL   MAIL  PHONE
Nutritionists provide evidence-based information and guidance about the impacts of food and nutrition on the health and well-being of humans (at an individual or population level). A nutritionist email list lets you connect with professionals who work with diverse clients. Businesses may capitalize on opportunities by implementing this list and become the top nutritional contact for their industry.
We Set the Highest Bar for Privacy and Security
Data That's Trusted by over 800,000 Salespeople
Here's What Our Customers Say
Rachel Lemieux
Manager, Demand Generation
Advice Media
A Wise Decision To Invest In DataCaptive
Leif Magnuson
CEO & Founder
TipHaus
Continue Running Drip Campaigns With Their Lists
Nutritionist Data – A Liaison to Make Suppliers and Businesses Meet
Target your customers with the ideal content using nutritionists mailing list and propel your business.
The data you receive in nutritionist email addresses is 95% accurate and 85% deliverable. The data submitted into our system complies strictly with GDPR, CAN-SPAM, and ANTI-SPAM policies. Furthermore, the contacts are 100% opt-in to be contacted by brands.
Nutritionist Directory Enables Real Time Data Insights
Businesses can get unique data segments from nutritionists contact list to cope with business prerequisites.
| | | | |
| --- | --- | --- | --- |
| | Full Name | | Mailing Address |
| | Email Address | | Fax Number |
| | License Number | | Licensed States |
| | Geography | | Contact Number |
| | Specialty | | Years of Experience |
| | Hospital Affiliation | | NPI Number |
| | | | And More! |
Trigger Success by Database of Nutritionists and Sub-specialties
Your first step in connecting with the top nutritionists in your community and around the globe is to get nutritionist marketing data. You can access your customized list by clicking here, and be prepared to fulfill orders and meet demand to the fullest.
The perks involve a one-time offer by us presenting lists of specialists at subsidized and affordable pricing. Purchase the nutritionist email directory and others immediately to get the bonuses awaiting you!
Job Titles That Can Be Targeted for Sales
Sports Nutrition Counselors Contact List
Nutritionist Medicine Physician Mailing List
Pediatric Nutrition Counselors Emails
Pediatric Dietitians Counselors Email Addresses
Home Health Care Nutrition Counselors Data
List of Public Health Nutrition Counselors
Nutritional Consultant Direct Mailing List
Dietitian & Nutrition Counselors Marketing List
Research Dieticians Mailing Addresses
Herbal Diet Product Distributor Database
Community Nutrition Counselors Contacts
Consultant Dietitian Marketing Data
Diabetic  Diet Consultant Sales Leads
Private Practice Dietitian Counselors List
Certified Nutrition Specialists Email Address
Certified Holistic Nutritionist Directory
Naturopath Nutritionist Mailing Database
Clinical Nutritionist  Marketing Lists
Public Health Nutritionist Contact Data
Nutritionists Products Vendors Directory
Email List of Clinical Nutrition Practice Groups
And Many More!
Best Healthcare Marketing Strategy Lies with Nutritionist Contact Database
Trustworthy Contact Details
Data from Credible Resources
70+ Customizable Data Fields
Receptive Data with Economy of Scale
Data Fields Available
170+
Customize Your List with Segmentation
| | | | | | |
| --- | --- | --- | --- | --- | --- |
| | Job Titles | | Revenue Size | | Geographics |
| | Job Function | | SIC Codes | | Years of Experience |
| | Organization Size | | NAICS Codes | | And More! |
Authentic and Verified Sources
| | | | | | |
| --- | --- | --- | --- | --- | --- |
| | Healthcare Directories | | Surveys and Feedback Forms | | Scientific Journals and Publications |
| | Government Records | | Online Seminars and Conferences | | Webinars and Podcasts |
| | Medical Magazines | | Opt-in Email Campaigns | | Med-tech Trade Show |
Effectively Drive Sales via Nutritionists Mailing Database
After receiving the order confirmation, a custom-made mailing list of nutritionists will be forwarded to your business email ID in 3–5 business days. One can conveniently browse the list and lead the industry with the greatest B2B marketing plan in the pocket by downloading the file in .xls or .csv formats and integrating it into your choice CRMs or cloud-based apps.
Frequently Asked Questions
What makes nutritionist contact information authentic?

The contacts in the nutritionist contact information are put through a stringent 7-tier AI verification and manual verification. The contact information in the list is 100% opt-in, and the professionals prefer to be contacted for promotional and sales calls.

How often is the contact list of nutritionists updated in the central system?

The data in the central system of DataCaptive is updated every 45 days to ensure that the customers do not encounter hard data bounces and waste time and effort on re-validating the information.

Where are the contacts in certified nutritionists contacts sources?

DataCaptive has a variety of sources that we collect data from for our lists. The sources include websites, publications, surveys, yellow pages, conferences, applications, governmental portals, and advertisements. All the data is vetted by experts before entering the central system, ensuring deliverability.

How is the nutritionist email marketing list beneficial?

Using our nutritionist mailing addresses, the list purchaser can contact the top nutritionists in the field and come in to face an audience who belong to every stage of life with various disorders and diseases. The businesses can broaden perspective and promotional messages to create new sales and revenue.

Can we avail of a sample of the licensed nutritionists marketing list?

Absolutely! DataCaptive takes pride in the 'Test and Drive' motto. You can select 'Request a Sample' and avail yourself of a sample list of the licensed nutritionists marketing list. We strongly recommend that executives select customization as it caters to your needs and requirements.
We will assess your requirements and pick the best solutions!


3080 Olcott St D205, Santa Clara, CA 95054, United States